Nature and Experience Loop Trail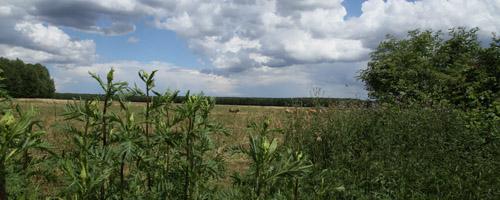 The trail runs through the landscape of the Rehfelde garden colony, connecting nature and culture. Hikers can experience the Rehfelde moor, the Zimmersee, the Flower Path, and not least, a peek into the diverse garden worlds that line the path along the "Green Door to the Märkische Schweiz." What was 150 years ago only forest and fields is today an attractive residential area that offers an interesting glimpse into recent history.
Most people are unaware that part of the trail already played a prominent role in the high - Middle Ages. As early as 1247, there is mention of a "via vetus", an earlier trail, in the documents of the Brandenburg Marchgraves Johann I and Otto III. Over a distance of about three kilometers, this earlier trail was to have travelled between the Herrensee station and the current Rosa Luxemburg Strasse with a direct connection to Strasse 32 and onward to the intersection of the marked boundary of Rehfelde, Strausberg, and Garzau.
This earlier trail served to connect a Slavic tribe, the "the Sprewanen", who formerly settled the area with the main settlements in the middle of Koepenick and, from there, through Tasdorf, Hennickendorf, Hohenstein, Grunow, and Reichennow to Wriezen. More information about this earlier trail can be found in the book "Rehfelde: The History of our Streets"

| | |
| --- | --- |
| Start/Finish | Herrensee Main Station |
| Course | Rosa-Luxemburg-Straße - Stephanstraße - Waldpromenade – Klosterdorfer Weg - Zimmerwiesen - Poststraße - Elsholzstraße - Ernst-Thälmann-Straße - Fuchsbergstraße - Blumenweg – Waldweg - Strausberger Straße – Schulstraße Blumenstraße - Schillerstraße - Ernst-Thälmann-Straße |
| Distance | 10 Kilometers |
| Walking time | 2 to 3 hours |
| Trail Marker | Green Dot |
| Difficulty Level | Easy |
| Surface | Footpaths in the villages |
Attractions along the way
Rehfelde local history museum
Reimer Forest Beekeeper
Sigrid Muenter Creative Studio
Juergen Wenzel Gallery and Artist Studio
Entrance Gallery Rehfelde