The Lilly Trail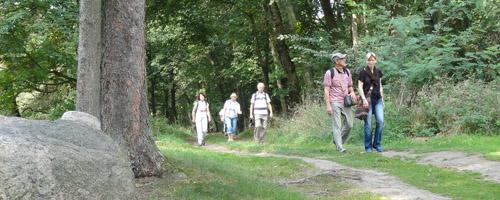 The "Lilly Trail" is reminiscent of the times of the monks of the Zinna Monastery. The monastery, founded in 1170/71 by the archbishop of Magdeburg, was one of more than 150 abbeys of the Cistercian Order, which were constructed across all parts of Europe through the mid-1200s.
In 1230, as the monastery was in decline, Heinrich the Illustrious, the Marchgrave of Meissen, granted Zinna extensive property rights on the Barnim. The property was bordered by the Red Glade and the River Stöbber to the East, Loecknitz to the South, the channel lakes Flakensee, Kalksee, and Steinitzsee in the area of the Herrensee to the West and by Rehfelde and Werder to the north.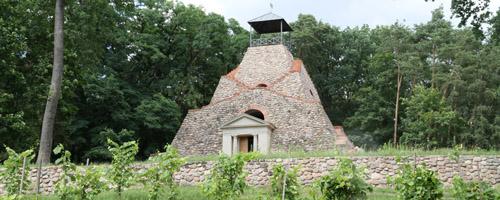 For more than three hundred years, the Zinna monastery oversaw and collected payments from the villages located in the area including those of Rehfelde, Werder, Zinndorf, Hennickendorf, Ruedersdorf, Herzfelde, Lichtenow, and Kagel.
For the symbol of the Lilly Trail, its organizers chose the Madonna Lilly, which can be found alongside the red and silver nested bends on the heraldry of St. Bernhard from Clairvaux as well as many arms of the Cistercian abbeys.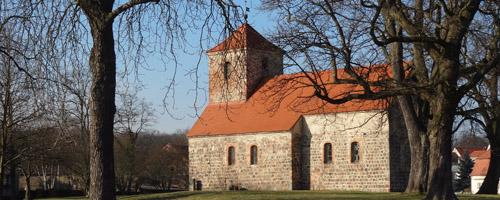 The Lilly hiking trail connects the villages of Rehfelde, Werder, and Zinndorf and the—for their times--spectacular Cistercian churches. Although they do not belong to the Cistercian property, the trail is also connected to the Garzau church and Garzau fieldstone pyramid.
Whether by foot or by bike, hikers can learn about the past and the present history of the region while enjoying nature and architecture. Especially recommended are forays that coincide with one of the various festivals or cultural highpoints that take place year round along the route.
| | |
| --- | --- |
| Start/Finish | Rehfelde Main Station |
| Course | Garzau Pyramid—Garzau—Werder—Zinndorf—Rehfelde Village—Rehfelde Colony |
| Distance | 17 kilometers |
| Walking/Biking Time | 4 to 5 hours/around 2 hours |
| Trail Marker | The Madonna Lilly |
| Difficulty Level | Easy |
| Surface | Forest and field paths, footpaths in villages |
Attractions along the way
The churches of Garzau, Werder, Zinndorf, and the village of Rehfelde
Typical fieldstone farms and outbuildings from the 19th century
Landmarked boundary stone between Upper and Lower Barnim
Gallery "Bauernfluch"
The fieldstone pyramid Garzau
Beekeeping in Garzau
Ornamental planting of boxwood lilies in the Werder churchyard